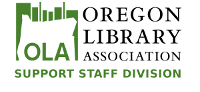 SSD Scholarships                     


The Oregon State Library Offers Library Support Staff Certification Enrollment Assistance Awards

The Oregon State Library is offering financial assistance to library support staff applying for certification in the American Library Association's Library Support Staff Certification (LSSC) Program. The LSSC Program offers library employees a new career path in the library profession and the opportunity to achieve recognition for their experience, enhance library service, and increase skills and knowledge in areas like the foundations of librarianship, technology, and communication.  

The LSSC Program is funded by a grant to ALA from the federal Institute for Museum and Library Services, and managed by the ALA-Allied Professional Association.   

The Oregon State Library will be offering four Enrollment Assistance Awards (EAA) this spring.  The Awards are for $175, one-half of the LSSC enrollment/application fee. Successful award recipients will be asked to pay the remainder of the enrollment fee with their own funds or funds obtained from other sources.  ALA-APA has offered EAAs in the past and with the ending of the federal grant that supports them, these will be the last Awards offered under this grant.

Library Support Staff Certification (LSSC) provides a path to recognition and awareness of the critical role that library support staff play in the delivery of quality library service. To achieve certification, support staff must achieve six of ten competency sets either through development of an online portfolio or taking approved courses. The competency sets are:  Foundation of Library Service; Technology; Communication and Teamwork; Access Services, Adult Readers' Advisory Services; Cataloging and Classification; Collections; Reference and Information Services; Supervision and Management; and Youth Services.  

An application form to apply for the Enrollment Assistance Awards is available from the Oregon State Library by downloading the application or contacting SSD Treasurer Rea Andrew : rea.andrew@newbergoregon.gov or 503-554-7731. The application window is from February 15 through March 15.   Support staff from all types of libraries are invited to apply.  Applicants that receive the Award will have one month to enroll/register for LSSC. Please contact the State Library or Rea Andrew with questions.

The recipients of the Award will be chosen by a random drawing on March 16th.
Lorelle Swader, Director of ALA-APA "LSSC is really pleased that the Oregon State Library is participating in the Enrollment Assistance Awards. We are confident that support staff will find certification to be helpful and are thankful for this grant from IMLS."

To be eligible to participate in LSSC and thus receive an Enrollment Assistance Award, applicants must have a high school degree or its equivalent and have worked for the equivalent of one year (1820 hours) as a library staff member or volunteer within the last five years.
 
Detailed additional information on LSSC is available on the LSSC website:  www.ala-apa.org/lssc
Oregon Library Support Staff Certification Scholarship

An anonymous donor has given $1,000 to help five (5) Oregon library support staff members apply for national certification in 2010.  Certification scholarships apply $200 towards the $350 application fee to enter the ALA-APA Library Support Staff Certification Program.

The scholarship is open to any SSD member having a high school diploma, at least one year of library experience, and who has been employed within the last three years in an Oregon library.  
Applicants will be responsible for the remaining cost of the registration fee.

For more information on the LSSCP, see http://www.ala-apa.org/lsscp/index.html.

General Scholarship Information
There are three types of scholarships available through the Oregon Library Association, Support Staff Division (OLA/SSD): the SSD Continued Education (CE) Scholarship, the Donetta Sheffold Scholarship and the Susan Mincks Scholarship. These scholarships:

are intended to help someone participate in/or attend such events as a state, regional, or national conference, a seminar, or a class that pertains to something such as support staff training, library science, or first time membership into OLA/SSD.
are awarded according to the number of applications received and the current financial status of the Support Staff Division.

are awarded for various amounts.
Applicants who are current members of the SSD will be given priority over nonmembers. The value of each scholarship will be at least $30, but not more than $200. Scholarship funds are limited in any calendar year. An applicant may receive only one scholarship every 18 months.

The SSD CE Scholarship
The purpose of this scholarship is to assist with continuing education.

The Donetta Sheffold Scholarship
This scholarship is awarded to someone who shows potential to be a leader and a mentor, who is an inspiration to members of OLA/SSD, and other support staff throughout Oregon, and who has the potential to grow as an individual.

    The Donetta Sheffold Scholarship may also be used in conjunction with other funds.
    Applicants must provide a narrative of what they envision their goals and accomplishments will be as a result of being awarded this scholarship.
    Recipients will be asked to submit a written report to the SSD Executive Committee, addressing the event attended.
    Recipients may be invited to share their experience at an SSD meeting.



The Susan Mincks Scholarship
The purpose of this scholarship is to assist with the attendance at an SSD Conference by:

    Awarding one scholarship for the registration fee of a nonmember to attend an SSD Conference.
    Awarding one scholarship for the registration fee of a member to attend an SSD Conference.

Application Process
Application materials for these scholarships must be received at least 1 week (7 days) prior to the event you would like to attend and/or participate in. For instance, if you would like to use one of these scholarships to attend the annual OLA Conference or the annual SSD Gateways Conference, your application materials must be submitted at least 1 week (7 days) prior to the event.

When applying for one/both of these scholarships, please keep the following points in mind. In addition to the formal application:

Applicants must submit a detailed budget of expected expenses.
Applicants must submit a narrative statement describing what they expect their personal growth and career developments will be as a result of the program they are to attend.
Applicants for events other than the annual OLA and SSD Conferences should be accompanied with printed materials that describe the event. Photocopies of such materials are acceptable.

To apply for any of the scholarships please fill out the application found below and mail or email to:
Rea Andrew
Newberg Public Library
503 E Hancock St
Newberg, OR  97132
rea.andrew@newbergoregon.gov

PDF application